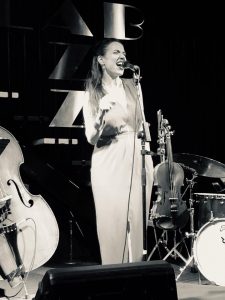 A multi-talented performer, Charlotte Jane has been singing, playing & creating music for as long as she can remember. Born into the business, her musical education began at 4 with Suzuki violin, performing alongside her mother who was a gifted concert harpist and pianist. With a childhood soaked in music and dance, Charlotte Jane has never looked back. Her first professional work was in musical theatre, touring nationally by age 12, followed by huge outdoor concerts throughout NZ to 100,000+.
Upon arriving in Australia she stepped into the world of jazz, gigging with many of the countries' finest musicians at leading venues, festivals, concerts and events, leading her own band as well as performing and recording for collaboration projects. Her studies have led to a Graduate Certificate in vocal pedagogy from the Sydney Conservatorium of Music, Performer's Certificate Scholarship Awards on violin and an Advanced Diploma in Acting for Stage & Screen. Major influences include legends such as Ella Fitzgerald, Sarah Vaughan, Stephane Grappelli & Stevie Wonder as well as current jazz superstars Herbie Hancock, Esperanza Spalding, Gregory Porter and Robert Glasper.
Later on she has dabbled in hip hop (thanks to aussie hip hop legends Brethren, The Embassy Church & Krosswerdz), resulting in a love for jazz/hip hop fusion, and as always, gospel music. Since childhood, Charlotte Jane has loved and served God – The One who inspires the creativity of all. Music is one of God's incredible gifts to us and one of the ways we reflect His awesome creativity. Her  vision is to combine the power of scripture with the harmonies & rhythms of jazz, soul, pop
& fusion. Music that brings a smile to the eyes and grooves to the feet, with the news that brings life, hope and ultimate peace – regardless of age, race, status or background. After all, music has no boundaries and neither should good news.
'Charlotte Jane has it all: charisma, true talent, discipline, openness and that elusive yet all-important X-factor.' – Kate Ward Smythe, Artistic Producer.

"Charlotte Jane is an impressive performer. She is not only an excellent violinist, but she is also a terrific singer. She performs quality music across many genres from funk to jazz and latin with a rare authenticity and panache. The combination of her violin and vocal artistry brings forth an artist who is unique, compelling, and engaging." – Craig Scot
Rhythm Section
Charlotte Jane has worked with some of Australia's finest musicians, including supporting Andrew De Silva & Gary Pinto (Carols by Twilight 2015 ), DJ Soup & The Fonke Knomads, Phil Stack (Thirsty Merc), Brett Hirst, Gerard Masters, The Joe Ruberto Trio, Tamara Murphy, Philip Rex, Craig Scott (Chair of Jazz, Sydney Conservatorium), Darrin Archer, Alister Spence, Mitch Farmer, Chris Soulos, Lily Dior and many many more.
Teaching
For individual singing and violin lessons, group workshops and training please contact us at info@charlottejane.com or +61421847662