Charlotte Jane: Jazz Vocals & Violin
'Charlotte Jane has it all: charisma, true talent, discipline, openness and that elusive yet all-important X-factor.' – Kate Ward Smythe, Artistic Producer.
"Charlotte Jane is an impressive performer. She is not only an excellent violinist, but she is also a terrific singer. She performs quality music across many genres from funk to jazz and latin with a rare authenticity and panache. The combination of her violin and vocal artistry brings forth an artist who is unique, compelling, and engaging." – Craig Scott (Chair of Jazz, Sydney Conservatorium of Music)
A multi-talented performer, Charlotte Jane is a vocalist, violinist and percussionist, delving into the realms of jazz, soul and gospel. Born into the business, her musical education began on the violin at age 4 performing alongside her mother, a gifted concert harpist and pianist. With a childhood soaked in music and dance, Charlotte Jane has never looked back. National tours followed with music theatre, adding a love of performance to early influences from gospel to funk and legends such as Ella, Sarah Vaughan, Grappelli, Stevie Wonder & Chaka Khan. Upon arriving in Australia she stepped into the world of jazz, working with many of Sydney's finest musicians and leading venues, performing and recording for both solo and collaboration projects. Her studies have led to a range of awards, including a Graduate Certificate in vocal pedagogy from the Sydney Conservatorium of Music, Performer's Certificate Scholarship Awards on violin and an Advanced Diploma in acting.
Today, Charlotte Jane can be found performing at jazz clubs, festivals nationwide and many corporate and private functions, from intimate gatherings to football stadiums. Charlotte Jane's multi-faceted performances present a feast for the eyes and ears. With charismatic style and a captivating stage presence, her powerful delivery of jazz standards feature swinging violin and lush vocals 'stamped with rare honesty and sassy tenderness'. Original material created with her husband and guitarist Shami deal with issues of love, life & relationships, infused with modern jazz grooves and a soulful, acoustic twist.
For singing teaching information and enquiries, please contact us.
Shami Marandawela: Guitar & AV Production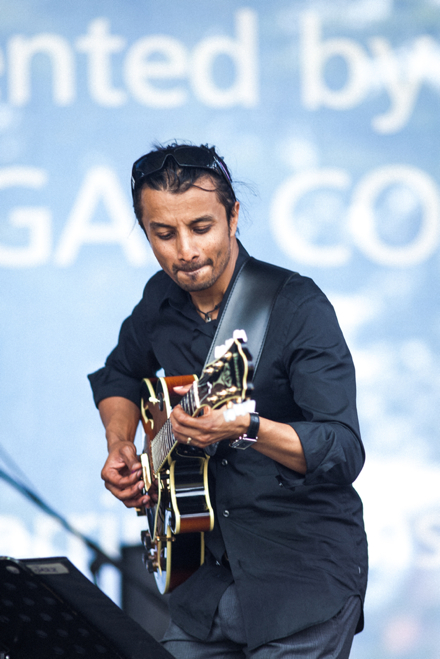 Shami Marandawela's early playing was influenced by the 70's and 80's funk & gospel styles, but after many years of exploring sound and style, he has added the rich textures and complexities of jazz and blues. Drawing from classic jazz influences such as Wes Montgomery and George Benson, combined with the current day blues players as John Mayer and BB King, Shami's playing is colourful, melodic and soulful. After completing a degree in Engineering and Computing from Melbourne's Monash University, he relocated to Sydney and continued his passion for music by studying at the Sydney Conservatory Jazz program. The charisma, humour and stage presence of Shami's style are a part of his appeal as a musician, as is his ever expanding technical skill and command of the guitar.
Shami and Charlotte Jane pride themselves on their award winning approach to music and life. They focus on the details and bring a holistic and professional approach be it the initial discussion to tailoring a product that is ideally suited to any client and to any budget.